Slay, Blues president asks lawmakers for help with Scottrade renovations | Politics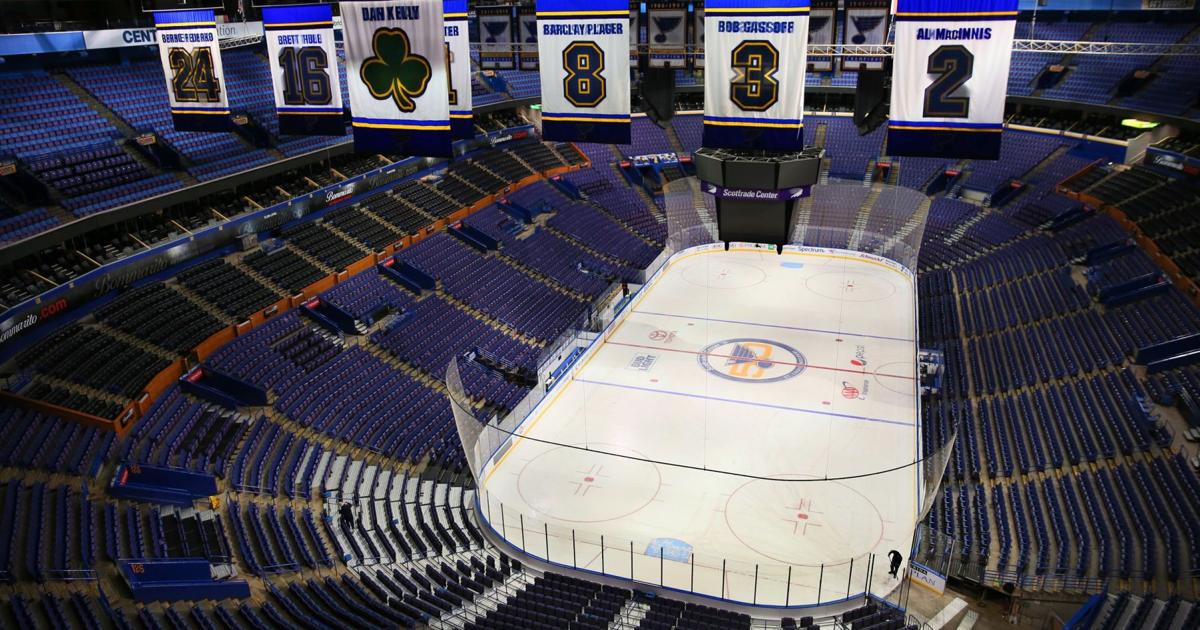 By Austin Huguelet St. Louis Post-Dispatch

CITY OF JEFFERSON • Mayor Francis Slay led a small group of city leaders here on Tuesday urging lawmakers to help with renovations to an aging Scottrade Center.
A proposal by Sen. Dave Schatz, R-Sullivan, would allow the state to contribute up to $6 million a year to upgrade the 23-year-old home ice of the St. Louis Blues, who, according to officials, needs urgent solutions if it is to continue to attract high profile sporting events and concerts.
Blues chairman Chris Zimmerman told a Senate committee that state money would be used to fix a long list of problems, including failing plumbing, outdated lighting and an overloaded air conditioning system.
After nearly a quarter century of events, including multiple NCAA wrestling championships, dozens of men's basketball tournament games and the NCAA's Frozen Four, Zimmerman said it was time to " replace these failing systems so that we can ensure that we can continue to deliver major events."
Without the money, Jack Stapleton of the St. Louis Sports Commission said Scottrade could lose events like wrestling championships to better-equipped facilities with better public support.
"The competition is tough," he said. "We're going to come up against a lot of cities with newer, publicly funded buildings."
He cited Louisville, Chicago and Oklahoma City as examples.
The bidders also offered a series of statistics to support the bid. A report prepared by Johnson Consulting and delivered to lawmakers said Scottrade generated nearly $170 million a year in visitor spending and an average of about $11 million in annual tax revenue for the state. Along with the Peabody Opera, the Center fills nearly 55,000 hotel rooms annually.
"It creates a lot of revenue and a lot of vibrancy in our city," Slay said.
The St. Louis Board of Aldermen approved the $64 million bond issue for its part in the renovations last month. The debt, which could cost the city more than $100 million over 30 years after interest is paid, will buy new seats throughout the arena, a new scoreboard in the center of the arena and renovated locker rooms, among other improvements.
The Blues ownership group plans to invest $50 million over the next 20 to 30 years for additional projects.
Apart from a few technical points, Schatz's measure did not cause much concern in the committee. But that could run into trouble with Gov. Eric Greitens, who called public funding for a proposed Major League soccer stadium in downtown St. Louis "well-being of the millionaires" in January.
A spokesperson for Greitens was not immediately available for comment Tuesday evening.
Scottrade, which opened in 1994 as Kiel Center, is owned by the city and leased to the Blues, who operate and manage it. The arena cost $170 million to build at the time with $62.4 million in tax-exempt financing.
The Blues' four privately owned groups have invested a combined total of about $180 million in operating and maintaining Scottrade over its lifetime, according to the Johnson Consulting report. During the same period, they posted losses of $500 million.
"The Blues haven't really been a get-rich-quick proposition over the years," Blues chairman Tom Stillman said last month. Stillman's ownership group bought the team in 2012 for around $132 million.
Forbes magazine estimates the Blues are currently worth $310 million, ranking 23rd out of 30 NHL teams. Forbes estimates annual revenue at $129 million, with operating profit of $3.2 million.
Austin Huguelet 573-556-6184
@ahuguelet on Twitter